Life in a Hive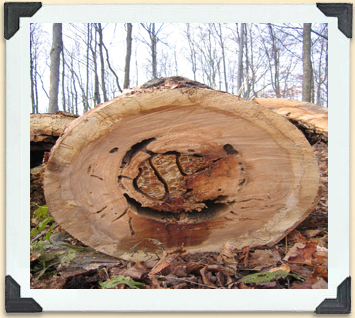 Wild Colonies
Prior to the arrival of the Europeans, a strain of stingless bees provided a source of honey for North America's First Peoples. These bees are now extinct since they lacked resistance to diseases introduced with imported bees.
The honeybees we see most often today in North America are not native to this part of the world but, rather, have been imported. Those found in the wild now are actually domesticated bees that have swarmed and built new hives in a natural setting. Bees often use hollow trees as shelters.
Although once seen frequently, fewer and fewer wild colonies exist today. This is in part because beekeepers are getting better at preventing swarms, and in part because wild bees, without the help of beekeepers, have a difficult time fighting off many of the now common parasites and diseases.