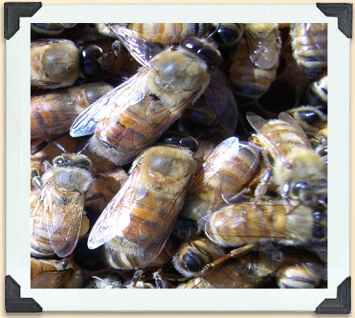 Drone
Drones are male bees and their sole purpose is to mate with the queen: they don't work, don't make honey and can't sting. Since a queen only needs to mate once, most of the drones won't even get the chance to fulfil their role. But worker bees keep them around, just in case a new queen needs mating.
Drones usually live for about eight weeks and, in that time, have all their needs met by worker bees. In the fall, the worker bees kick the drones out of the hive because keeping them through the winter demands too much work and food.
You can recognize drones because they are stouter and a little bit longer than worker bees. Their eyes are twice the size of worker bees' eyes because a drone needs good eyesight when he follows the queen high up in the air to mate.