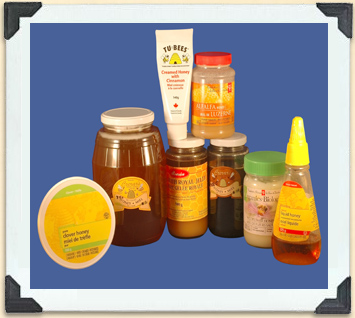 Honey
Honey is a sticky substance that bees make by gathering nectar from plants and processing it in their stomachs. They keep the honey in cells, adding an enzyme to ripen it. It's stored as a food reserve for the colony in winter but, since they make more than they need, beekeepers can collect the surplus.
We use honey as a sweetener in food, for medicinal purposes and as an ingredient in beauty products. Honey is known to have antibacterial properties that can help prevent or heal infections.
The year 2006 was a record one for Canadian beekeepers: they collected over 48 million kg of honey. Honey production varies from year to year, depending on the survival of bees over the winter, the presence of disease and parasites, and the weather during the flowering season.